Wat zijn mogelijke oorzaken van PTSS?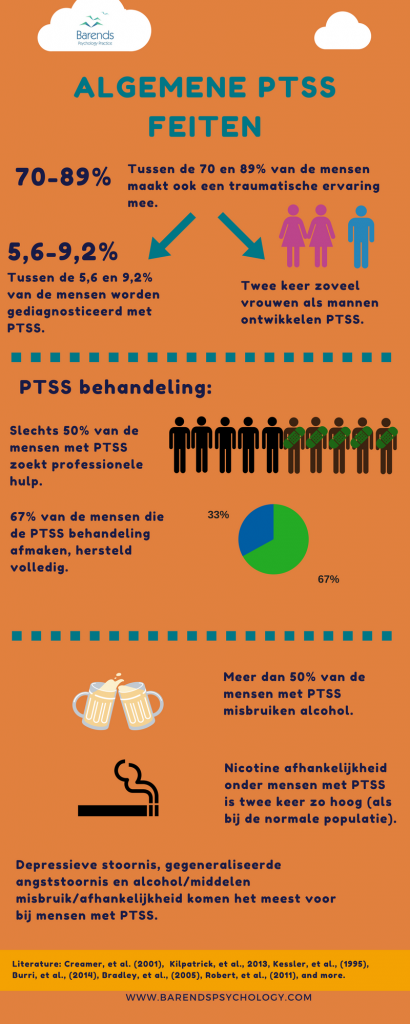 Er zijn veel verschillende mogelijke oorzaken van PTSS. Een van de oorzaken van PTSS is het meemaken van een traumatische gebeurtenis. Deze traumatische gebeurtenis kan een heftige impact hebben op je en zorgen voor PTSS klachten. Deze klachten kunnen op den duur zorgen voor PTSS. Andere oorzaken van PTSS zijn misbruik (seksueel, emotioneel) of bijvoorbeeld pesten. Sommige oorzaken van PTSS zijn lastiger te achterhalen, maar zorgen wel voor PTSS klachten. Vaak lukt het met een therapeut wel om erachter te komen welke gebeurtenis(sen) behoren tot de oorzaken van PTSS in jouw geval.
Op deze pagina vind je mogelijke oorzaken van PTSS en eventuele risicofactoren die kunnen zorgen voor PTSS.


Maak nu een eerste, gratis afspraak. Meld je hier aan. (Afhankelijk van de zorgverzekeraar kunnen sommige behandelingen vergoed worden).
Voor meer informatie over PTSS:
Oorzaken van PTSS.

Het is lastig om precies te kunnen vertellen wat nu precies de oorzaken van PTSS zijn, omdat het nog onduidelijk is waarom de ene persoon wel PTSS ontwikkelt en de andere niet als ze dezelfde traumatische gebeurtenis meemaken. Sommige mensen lijken beter bestand tegen erg emotionele gebeurtenissen dan anderen, en lijken ook minder moeite te hebben met het verwerken van traumatische gebeurtenissen.
De huidige theorieën die proberen te verklaren wat nu de oorzaken van PTSS zijn, richten zich voornamelijk op de manier waarop onze hersenen traumatische ervaringen verwerken. Door de enorme impact van een traumatische gebeurtenis zijn de hersenen niet in staat om alle informatie, emoties en gevoelens op een normale manier te verwerken. Door deze verstoorde verwerken kunnen mensen dan PTSS ontwikkelen. Met andere woorden, volgens de theoretici worden de oorzaken van PTSS verklaard door het onvermogen om traumagerelateerde informatie, gevoelens en emoties op een normale manier te verwerken.
Een andere theorie suggereert dat abnormale hormoon niveaus mogelijke oorzaken van PTSS zijn. Mensen met PTSS hebben voortdurend veel hormonen in het lichaam die te maken hebben met het vlucht – vecht gevoel/gedrag van mensen. Deze hoeveelheid is ook aanwezig als er geen gevaar dreigt. Mogelijk veroorzaken deze grote hoeveelheid 'vlucht & vecht' hormonen afgevlakte emoties en een staat van opperste alertheid bij mensen met PTSS.

(Advertentie. Scroll naar beneden voor meer informatie.)

Welke risicofactoren dragen bij aan de oorzaken van PTSS?
Er zijn geen risicofactoren die een directe oorzaak van PTSS genoemd kunnen worden. Wel zijn er risicofactoren die indirect bijdragen aan een toegenomen kans op het ontwikkelen van PTSS.
Een van de oorzaken van PTSS zijn de traumatische gebeurtenissen die iemand in de kindertijd heeft meegemaakt. Niet alleen de hoeveelheid traumatische ervaringen, maar ook de hevigheid van die gebeurtenissen vergroten de kans dat een traumatische gebeurtenis in de toekomst zich kan ontwikkelen tot PTSS.
Aangeboren geestelijke gezondheidsrisico's (toegenomen kans op ontwikkelen van depressie of angst) kunnen ertoe bijdragen dat iemand later eerder een PTSS ontwikkelt.
Aangeboren persoonlijkheidstrekken (denk hierbij aan temperament) kunnen bijdragen aan de ontwikkeling van PTSS in een later stadium.
Een stressvolle baan die je vaak in situaties brengt die mogelijk traumatisch kunnen zijn (denk hierbij aan soldaten).
Gebrek aan een goed sociaal vangnet. Zonder sociaal vangnet neemt de kans op het ontwikkelen van een trauma toe, omdat je er dan niet over kunt praten. Praten over je gevoelens en over de gebeurtenis helpt je met het verwerken van de traumatische gebeurtenis.