Wat zijn de kenmerken van een specifieke fobie?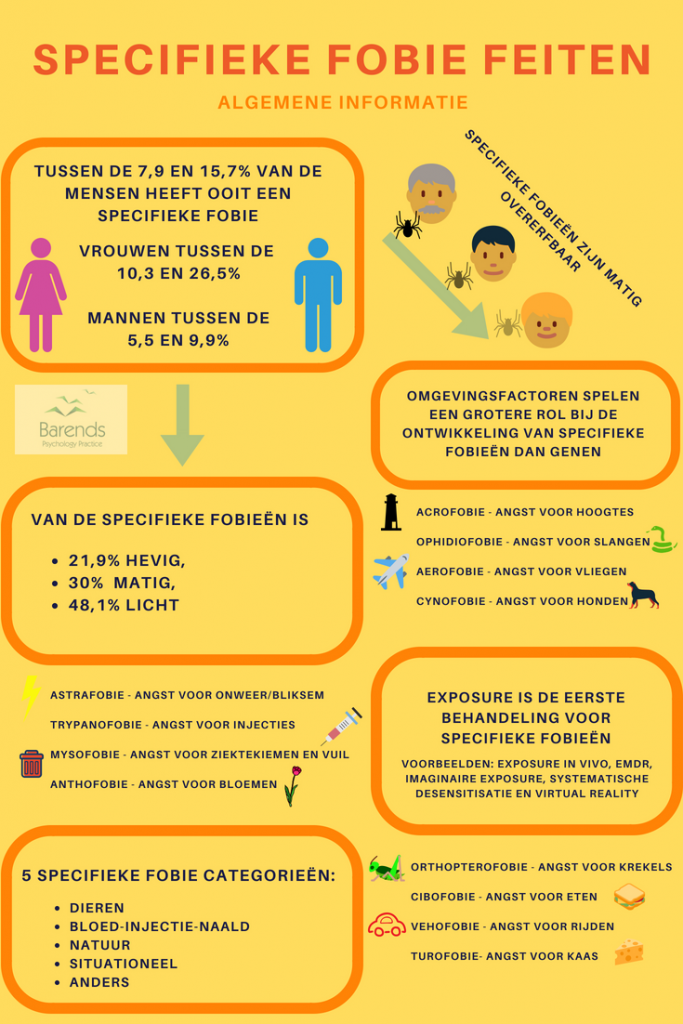 Een fobie wordt gekenmerkt door een volhardende en buitensporige angst voor dieren, voorwerpen of situaties. De intensiteit van de angst is buitenproportioneel ten opzichte van het daadwerkelijke gevaar. Bijvoorbeeld: hoogtevrees is een veel voorkomende angst bij mensen. Voor iemand met hoogtevrees (Acrofobie) zorgt 10 meter naar beneden kijken voor angst, duizeligheid, hartkloppingen en de drang om de situatie zo spoedig mogelijk te verlaten ('Straks val ik naar beneden'). Afhankelijk van de hevigheid van de hoogtevrees kan iemand al bepaalde specifieke fobie symptomen ervaren als ze een brug over moeten. Andere specifieke fobie symptomen waar iemand last van kan hebben zijn kortademigheid, licht gevoel in het hoofd, paniekgevoelens en zweten. Fobie symptomen kunnen ervaren worden op een fysiek, emotioneel en mentaal niveau. Hartkloppingen zijn fysiek, angst is een emotie en op mentaal niveau kan iemand de drang ervaren om de situatie zo spoedig mogelijk te verlaten.
Deze pagina bespreekt alle mogelijke specifieke fobie symptomen en diagnostische criteria vergezeld met voorbeelden en een heldere uitleg.


Ga naar:
Partner heeft een specifieke fobie.
Bij Barends Psychology Practice wordt behandeling voor specifieke fobie aangeboden. Meld je hier aan om een eerste, gratis, sessie in te plannen. (Afhankelijk van jouw zorgpolis kan het zijn dat behandeling (deels) vergoed wordt).
Specifieke fobie symptomen en diagnose volgens de DSM 5 criteria.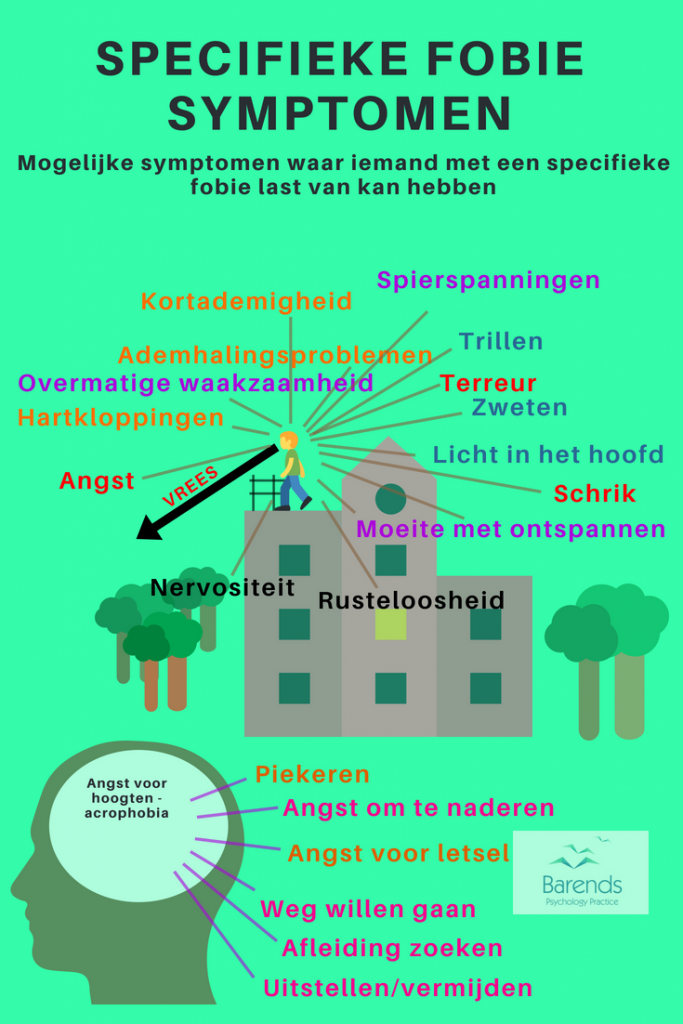 In dit hoofdstuk worden de specifieke fobie symptomen besproken aan de hand van de diagnostische criteria voor een specifieke fobie. De schuingedrukte tekst dient ter illustratie en bevat de symptomen die ook in het plaatje hier rechts of hierboven voorkomen.

Specifieke fobie criterium A
A. Duidelijke angst of vrees voor bepaalde voorwerpen, dieren of situaties (bijvoorbeeld: hoogten, natuurrampen, het zien van bloed of honden). NOOT: bij kinderen kan deze angst zich uiten door woede-uitbarstingen, huilen, 'bevriezen' of schoonmaken. De duidelijke angst of vrees voor specifieke voorwerpen, dieren of situaties wordt gekenmerkt door:

Vrees
Terreur
Zweten
Trillen
Moeite met ademhalen
Rusteloosheid
Hartkloppingen
Kortademigheid
Spierspanningen
Licht gevoel in het hoofd
Moeite met ontspannen
Constant op je hoede zijn
Nervositeit
Van welk
specifieke fobie symptoom
heb jij het meeste last?

Laden ...
Last hebben van minder dan 5 van deze specifieke fobie symptomen is niet voldoende om aan dit criterium te voldoen. Het is daarentegen wel mogelijk dat iemand minder klachten heeft, omdat deze persoon de fobische situaties, het fobische voorwerp of dier vermijdt. Als dit het geval is, dan is het waarschijnlijk dat deze persoon meer specifieke fobie klachten heeft zodra hij of zij de fobische situatie, het voorwerp of dier niet meer kan vermijden.
(Advertentie. Voor meer informatie over specifieke fobie symptomen, lees verder.)
Specifieke fobie criterium B
B. Het fobische voorwerp, dier of de situatie zorgt vrijwel altijd voor direct opkomende angstgevoelens. Bijvoorbeeld iemand met angst voor spinnen (Arachnofobie) kan erg in paniek raken en beginnen te schreeuwen als er een grote spin in de kamer is. Iemand met angst voor honden (Cynofobie) kan 'bevriezen' en intern in paniek raken (erg veel angst en stress hebben) wanneer de hond naar die persoon toe komt.

Specifieke fobie criterium C
C. Het fobische voorwerp, dier of de situatie wordt actief vermeden of de situatie wordt ondergaan met erg veel vrees en angst. Wanneer iemand met een specifieke fobie in de fobische situatie of het dier of voorwerp tegenkomt, dan zal deze persoon de ruimte/situatie zo spoedig mogelijk willen verlaten, het voorwerp/dier niet willen naderen en zichzelf willen afleiden. Afleiding zorgt voor verminderde gevoelens van angst en stress op de korte termijn, net als het verlaten van de situatie/ruimte. Helaas werkt vermijding en afleiding niet op lange termijn en zorgt het uiteindelijk voor meer angst en stress. Voor meer informatie over de negatieve effecten van vermijding, klik hier. Daarnaast proberen mensen met een (specifieke) fobie situaties te vermijden waarin ze geconfronteerd worden met hun fobische dier, voorwerp of situatie. Denk hierbij aan het vermijden van verre reizen naar exotische bestemmingen vanwege het feit dat iemand het vliegtuig moet pakken als er bij diegene sprake is van vliegangst (Aviofobie) of iemand met een sociale fobie die een speech of presentatie moet geven. Het is gebruikelijk voor deze mensen om angstremmers te gebruiken om de situatie met minder angst en stress te kunnen doorstaan.

Specifieke fobie criterium D

D. De angst of vrees is buitenproportioneel ten opzichte van het werkelijke gevaar dat de fobische situatie, het dier of voorwerp kan veroorzaken. Ook is de angst of vrees buitenproportioneel ten opzichte van de socioculturele achtergrond. Het klassieke voorbeeld van de vrouw die op de stoel staat wanneer ze een muis in de kamer ziet illustreert dit criterium erg goed. Op een stoel staan als er een muis in de buurt is, is overdreven; de muis is banger voor de vrouw dan omgekeerd. Flauw vallen of overgeven wanneer iemand bloed ziet is een andere reactie die buitenproportioneel is ten opzichte van de situatie. Bloed op zichzelf kan geen kwaad. Waar in het eerste voorbeeld de vrouw controle heeft over haar eigen gedrag, heeft de persoon in het tweede voorbeeld geen controle over het eigen gedrag.

(Advertentie. Voor meer informatie over specifieke fobie symptomen, lees verder.)

Specifieke fobie criterium E
E. De vrees, angst of vermijding is volhardend en houdt minimaal zes maanden aan. Dit criterium is aangepast toen met van de DSM-IV-TR overstapte naar de DSM 5 en is vrij arbitrair. Als iemand gedurende drie maanden erg veel last heeft van de bovengenoemde specifieke fobie symptomen, dan raden wij met klem aan om contact te zoeken met een therapeut voor behandeling. Behandeling voor specifieke fobieën is ook succesvol bij mensen die aan alle criteria voldoen behalve deze.

Specifieke fobie criterium F
F. De angst of vermijding zorgen voor klinisch lijden of beperkingen in het functioneren op het werk, sociaal of op andere vlakken. Mocht iemand een sociale fobie hebben maar wel goed functioneren op het werk en sociaal, dan is er geen reden om contact op te nemen met een therapeut. Mocht iemand met sociale fobie er veel last hebben van de hierboven genoemde klachten tijdens interactie met collega's, dan is het belangrijk om contact op te nemen met een therapeut voor behandeling. Specifieke fobie symptomen verbeteren de sociale interactie niet en dus is het aannemelijk dat de sociale fobie in hevigheid alleen maar zal toenemen zonder behandeling. Het komt zelfs voor dat iemand 1 of 2 traumatische ervaringen heeft tijdens deze sociale interacties.

Specifieke fobie criterium G
G. De klachten zijn niet beter te verklaren aan de hand van een andere psychische stoornis met gelijkende klachten, zoals angst, vrees, paniekklachten of vermijding; denk hierbij aan voorwerpen of situaties die gerelateerd zijn aan obsessies (obsessieve-compulsieve stoornis OCS; herinneringen aan traumatische gebeurtenissen (zoals bij posttraumatische stressstoornis PTSS); separatie van hechtingsfiguren (zoals bij verlatingsangst); sociale situaties (sociale angststoornis). De overlappende symptomen met OCS, PTSS of gegeneraliseerde angststoornis zullen sommigen opgevallen zijn. Vanwege het feit dat er veel overeenkomsten zijn tussen psychische stoornissen is het belangrijk om andere psychische stoornissen eerst uit te sluiten.

(Advertentie. Voor meer informatie over specifieke fobie symptomen, lees verder.)




Als, bijvoorbeeld, iemand met een angst voor open water (Thalassofobie) bijna verdronk in de jeugd, dan is het aannemelijk dat diegene deze angst voor open water (en voor zwemmen) heeft ontwikkeld vanwege de traumatische gebeurtenis. Door traumabehandeling toe te passen zal deze angst significant afnemen of zelfs helemaal verdwijnen. Een specifieke fobie behandeling zal minder effectief zijn, omdat een traumatische ervaring de angst veroorzaakt en niet een fobische angst.